Toxic substances, which can provide health risks were detected in seven of the 17 products tested. The products must be collected
Idec conducted a test with 31 to assess whether the toys manufacturers were complying with the Ordinance No. 369/2007 of Inmetro (National Institute of metrology, standardization and Industrial quality) that determines the limit of 0.1% of phthalates (DINP, DIDP, DNOP, DBP and BBP, DEHP) in the composition of toys made of PVC base.
In addition, the test sought also excess heavy metals such as antimony, arsenic, barium, cadmium, lead, chromium, mercury and selenium, all limited by brazilian legislation. In all, eight toys showed elevated levels of phthalates and none would bring heavy metals besides allowed.
Four of the products analysed contain amounts far beyond the permitted for children under three years of a type of phthalate, DINP: the Lovely Collection brings 39% of the compound; Shrek 3 brings 38%; My first bowling, 32%;and Monica is composed of 30% of that substance.
In four of the toys tested, the concentrations are high for DEHP, forbidden for any age, plus 0.1%. They are: the Funny Car, with 6%; Shrek 3 (also with high rate of DINP), with 2%; the Garu, with 0.2%; and the Legal & Learn Gang Smille, also with 0.2%. The Funny Car, the Plastbrinq, there is even a "seal" in which reads "does not contain phthalates.
The Ordinance No. 369/07 of Inmetro distinguishes for toys intended for each age group. The phthalates DINP, DIDP and DNOP are released for products for over 3 years, but not to minors having to respect the limit of 0.1%.Already the phthalates DEHP, DBP and BBP are prohibited for any age group in concentrations higher than 0.1%.
Phthalates are responsible for letting pliable PVC-acronym for polyvinyl chloride, a plastic type very common in toys and other products. These substances are suspected to cause liver problems, kidney and in the reproductive system, and are considered potentially carcinogenic. They are absorbed by the body in contact with the skin, with saliva or by inhalation.
Recall
Due to much higher values found in toys surveyed, Idec sent on Monday (15/12) a request for recall of seven toys to the Department of consumer protection and Defence (DPDC) of the Ministry of Justice and the Inmetro, and notified all companies about the request made to the competent organs. Shrek 3 toy sat out for being pirate product, being impossible to identify the responsible for manufacturing.
"The quantities found are much higher than the allowed values, and that's why we recall those responsible, since those toys that are on the market represent risks to the health of children," says Mark powder.
Free Of Heavy Metals
Last year were made several recalls of toys because they contained magnets that could be swallowed or contained heavy metals, such as lead. As the recalls were all with products imported from China, the Inmetro certification system changed made in the country, forcing all imported products to be certified batch to batch.Inmetro also made stricter the criteria of toxicity in toys-Portaria-369/07, adjusting the limits of contamination of heavy metals and phthalates that may be present in products.
Idec has tested 31 19 products in all enterprises (including the 17 who underwent testing of phthalates) to assess the presence of heavy metals-as levels of antimony, arsenic, barium, cadmium, lead, chromium, mercury and selenium. In none of the toys was found any type of heavy metal.
Gallery
injection molding toys figure, View injection molding …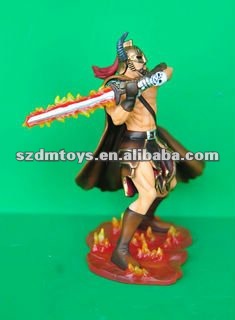 Source: szdmtoys.en.alibaba.com